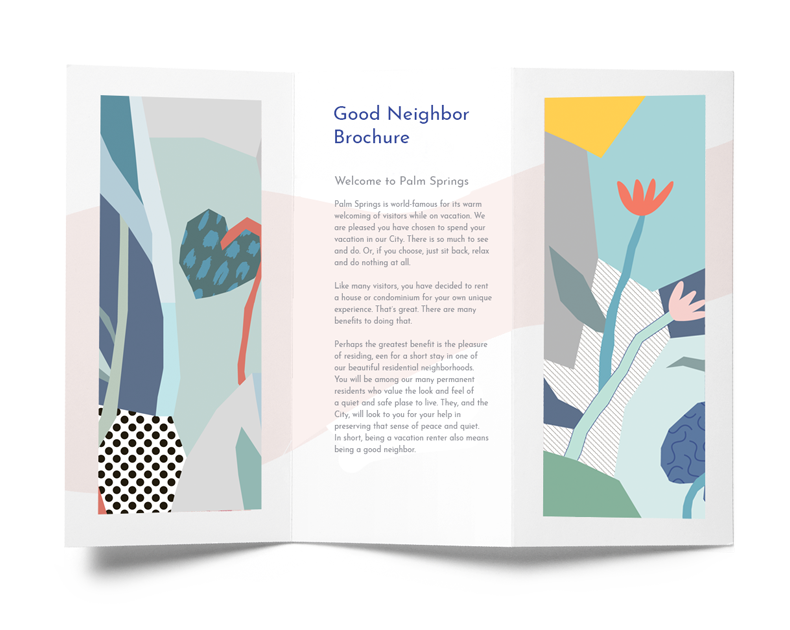 Good Neighbor Policy
A call from the neighbors to the City will bring the Vacation Rental Compliance Officers to your door. Our officers may issue you a citation if you exceed the allowed noise levels or if another violation is observed. So please, keep the noise down and be considerate of the neighbors. You may be on vacation, but other occupants in homes around your vacation home may not be. A summary of the brochure is below, but you can view the full text here:
Nighttime Occupancy is 2 adults per bedroom (total of 4 adults) plus two additional children under age 12.  Total daytime occupancy is no more than 8 people of any age.
Only one vehicle per bedroom is allowed at any given time. The limit for this home is 2 vehicles. Utilize driveway and/or garage when parking your vehicle before using street parking. Never block any driveway or street access.
Never bring your trash bags to the street, driveway or anywhere that can be seen by a passing neighbor or city worker. Dispose of your trash in the bins provided by the city only. These bins can be located by exiting the dining room doors and taking a left. Lift the child lock on the gate to open.
The city will collect the bins on Monday morning. Please park on the street on Sunday night to prepare for this service.
Amplified music is not allowed outside of your Vacation Rental unit. Music may not be heard at the property lines at any time of the day (that includes music coming from inside of the home). Please, don't bring the speakers outside and crank up the music, even if you think everyone will enjoy it. If your neighbors can hear music, you are in violation of the City Ordinance.
Night time hours are between 10pm and 10am. Please consider moving indoors after 10pm. If you choose to be outside, please be considerate of the neighbors and use indoor voices. Please remember our neighborhoods are quiet, surrounded by mountains and voices can easily carry.
Pool time is one of the most popular activities to enjoy in Palm Springs. Please keep voices and pool activities to a reasonable level. Continued and ongoing screaming for an extended period of time is one way to disturb the neighbors. Please be thoughtful.